Research
The CPR oversees a range clinical trials, pre-clinical research, and pilot studies examining psychedelics. To stay up to date on PHRI research, please sign up for our mailing list here or email us at cpr@ucsd.edu.
Current Studies
Brain Imaging Study on Intravenous DMT
A pioneering study in the US on continuously infused, "extended state" intravenous DMT. This research will afford a better appreciation of our conscious experience of reality and the nature of DMT breakthrough consciousness. Importantly, it will also optimize this titratable method of DMT administration for use in upcoming clinical trials on chronic pain (e.g., traumatic brain injury) and comorbid psychiatric conditions including depression and addiction.
Brain Imaging Study on Psilocybin for Phantom-Limb Pain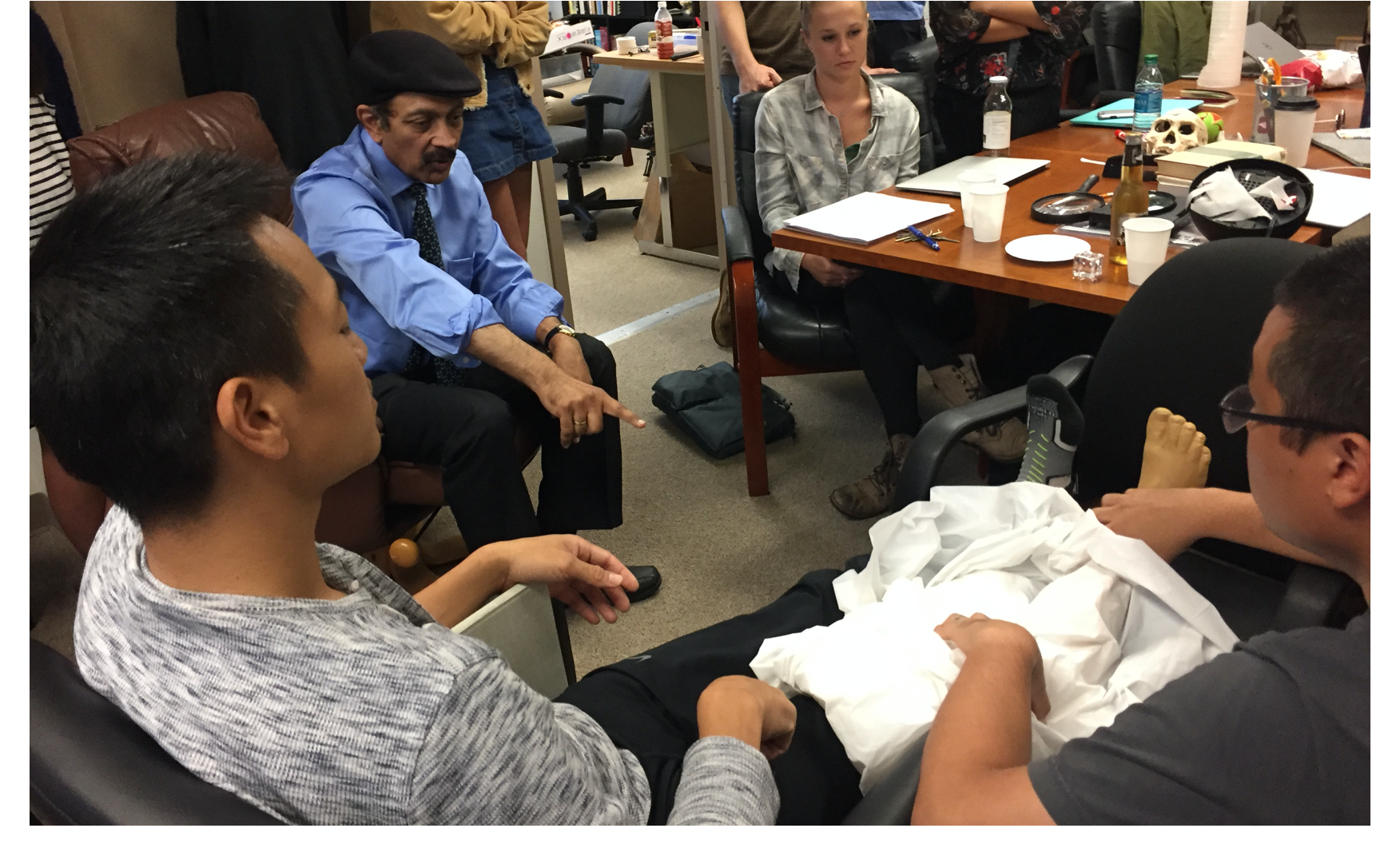 The goal of this study is to test the effects and mechanisms supporting psilocybin-assisted therapy as a novel intervention for phantom-limb pain. The proposed, placebo-controlled double-blind longitudinal study is one of the first known studies to assess the therapeutic efficacy and brain mechanisms of a classical hallucinogen to treat chronic pain.
The World Health Organization estimates that there are over 40 million amputees in the world. Approximately 50–80% of amputees experience phantom limb pain, while veterans exhibit the highest rates of amputees and chronic phantom limb pain. In many cases, phantom limb pain is severe and is not effectively relieved by existing pharmacotherapies, making it a debilitating and intractable condition.
Evidence is accumulating that serotonergic hallucinogens such as psilocybin and lysergic acid diethylamide (LSD) can relieve chronic pain, including the case report by PHRI members on National Geographic Explorer Albert Lin's use of psilocybin to eradicate his phantom limb pain, published in Neurocase, and a few small studies in the 1960s and 70s using LSD to treat the condition. Our controlled clinical trial using a randomized double-blind design and brain imaging study is the necessary next step to evaluate whether hallucinogens can alleviate phantom limb pain and to illuminate their mechanisms of action. The effects and mechanisms identified through this study will be utilized to further tailor, target, and optimize the use of psilocybin and other psychedelic drugs as medications for chronic pain and other illnesses, as outlined in Chronic Pain and Psychedelics: A Review and Proposed Mechanisms of Action (Regional Anesthesia and Pain Medicine), co-authored by members of the PHRI team.
Do you have chronic phantom-limb pain?
Recruitment for this study is currently taking place. Scan the below QR code if you would like to discuss and learn more. Or contact us at phri-recruitment@ucsd.edu or 619-432-5278.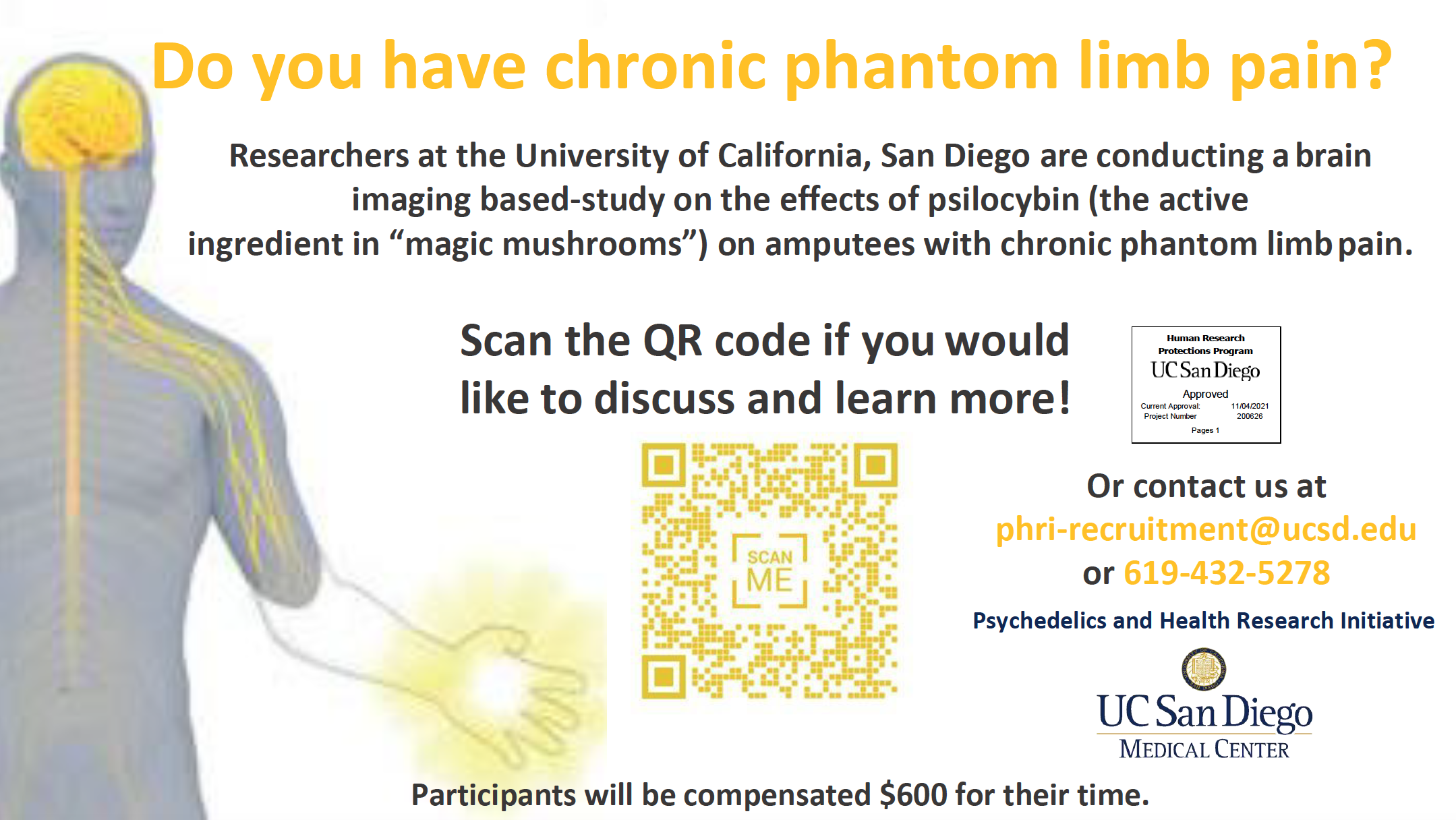 Study: Psilocybin Assisted Psychotherapy Study for Treatment-Resistant-Depression
UC San Diego (Sid Zisook, PI) is investigating the effects of psilocybin assisted psychotherapy in treatment-resistant depression. The study will analyze the effects of a single administration of psilocybin at three doses (1mg, 10mg, 25mg). All patients on antidepressants must taper off them within 3-6 weeks prior to baseline (the study team will manage this). The study includes 13–16 visits, two of which can be done remotely, over a 15-18-week period. Two specially trained study psychotherapists will support every participant before, during and after the psilocybin session.

How to refer a patient:
Only patients who have tried two, three or four anti-depressants without success for their current episode of depression are eligible for this trial. If a single episode, it must be more than 3 months but less than 2 years. If you have a patient who may be suitable, please contact:
Title: Cannabis Use and the Endocannabinoid System in Bipolar Disorder
Geyer, Mark (Co-I), 04/01/2018–03/31/2023
NIDA (1 R01 DA043535-02)
Major goals: To examine the effects of frequent cannabis use.

Title: The Next Generation of Hallucinogens: A New Class of Synthetic Psychoactive Drugs
Halberstadt, Adam (Co-PI), 02/15/2017–12/31/2020
NIDA (R01DA041336)
Studies in rodents of the brain mechanisms responsible for the behavioral and toxicological effects of Synthetic Psychoactive Drugs that are analogs of serotonergic hallucinogens such as LSD and mescaline.

Title: Monoamines and Hallucinogens' Effects on Rodent Behavior
Geyer, Mark (PI), Halberstadt, Adam (Co-PI), 04/1/2011–01/31/2017
NIH/NIDA (5 R01 DA002925-32)
Studies of the effects of hallucinogens on exploratory behaviors and startle responses in rodents.

Title: Role of the prefrontal cortex in serotonergic modulation of interval timing
Halberstadt, Adam (PI), 01/8/2014–12/31/2016
NIH/NIMH (5 K01 MH100644-03)
Studies whether hallucinogens and other serotonin receptor agonists disrupt interval timing by acting in the prefrontal cortex.

Title: Mechanisms of hallucinogen effects on exploratory behavior in rats and mice
Halberstadt, Adam (PI), 05/01/2009–04/30/2012
NIH/NIDA (5 F32 DA025412-03)
Major goal is to compare the involvement of 5-HT1A and 5-HT2A receptors in mediating the behavioral effects of hallucinogens in rats and mice.

Title: Brain Mechanisms Supporting Mindfulness-Based Chronic Pain Relief
Zeidan, Fadel (PI), 03/10/2019–04/30/2024
National Center for Complementary and Integrative Health, NIH (1R01AT009693-01)

The central aim of this R01 study is to determine the specific mechanisms supporting the modulation of acutely exacerbated chronic low-back pain, the most prevalent and financially burdensome chronic pain condition, by acutely trained mindfulness meditation.

Title: Brain Mechanisms Supporting Mindfulness-Based Pain Relief
Zeidan, Fadel (PI), 07/01/2014–02/29/2021
Granting Agency: National Center for Complementary and Integrative Health, NIH (1K99AT008238-01)

The central research aim of this K99/R00 study is to identify the behavioral, neural, and pharmacologic mechanisms associated with mindfulness-based pain relief.

Title: The Role of Endogenous Opioids in Mindfulness-based Chronic Pain Relief
Zeidan, Fadel (PI), 08/1/2019–7/31/2021
National Center for Complementary and Integrative Health, NIH (1R21AT010352-01)

The central aim of this double blind, crossover randomized study is to determine if mindfulness meditation attenuates acutely evoked chronic low back pain, the most prevalent and financially burdensome pain condition, through endogenous opioids.